Never been Zorbing before?
It truly is an amazingly fun thrill that has to be experienced to be believed! Definitely have no fear! Our friendly staff are always on hand to talk you through it every step of the way to ensure your experience is nothing but a super fun, laugher filled, adrenaline pumping time, with maybe some screams thrown in the mix too!

Our Ride Types
both available for all Group Zorbing packages
We are one of the only Zorbing venues in the UK to offer a freestyle mix of both Harness and Aqua Zorbing, for your ultimate experience! You don't need to choose beforehand which mix of ride types you want to do within your package, you can simply let our team know when you arrive at the park.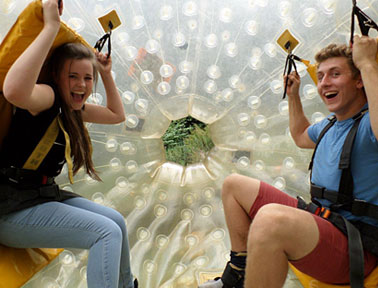 Harness Zorbing Ride
The original Zorbing experience, with two riders harnessed in opposite each other for their head over heels ex-hill-erating ride! Prepare to laugh (and maybe scream!) your way down our run at up to speeds of up to 25mph! Needs to be experienced to be believed!
restrictions: min height: 4ft 5" | max height: 6ft 7" | min age: 11yrs | max weight: 100kgs
Adrenaline Rating
Excitement Factor
Scream Levels
Overall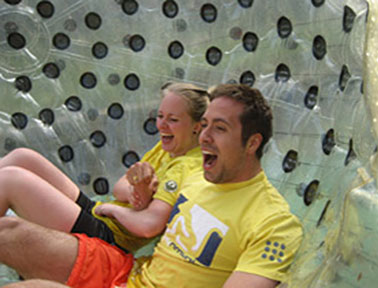 Aqua Zorbing Ride
Our epic 2 person freestyle ride, where you slip and slide your way down our course with approximately 40 litres of water! Set up warmer in the winter and colder in the summer. A total fan favourite!
restrictions: min age: 7 yrs | max combined weight: 200kgs (2 people max)
Adrenaline Rating
Excitement Factor
Scream Levels
Overall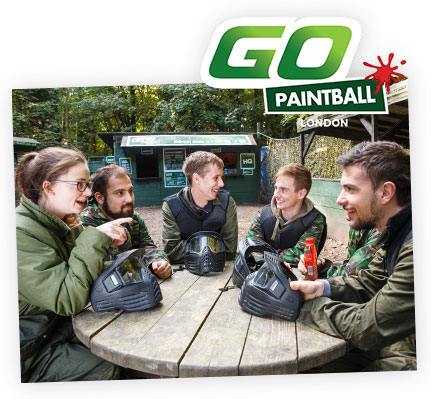 Zorbing & Paintballing with GO
Your ultimate action and adrenaline day!
GO Zorbing London is located in the same scenic Surrey forest as GO Paintball London.
Through our VIP Paintballing Tickets which every Zorbing customer receives free with their Zorbing booking/voucher, or through our bespoke mixed events, you can enjoy two of the most adrenaline packed experiences, from the best companies in the industries, all at the same venue!
Run by the former UK #1 Paintball player, with professionally designed game maps, the best hand picked equipment and 3 varied gun upgrades, GO Paintball London provides the most exciting and immersive Paintballing experience imaginable.