Our premier Zorbing venue is based in scenic forest on London's doorstep and is ready to give you and your group the experience of a lifetime.
Group Zorbing Packages
Check out our new and easy to book Group Zorbing Packages, ideal for unreal experiences with your friends or family!
Each package allows for your selected amount of people to get 2 Zorbing rides (Double Down) each. As each Zorbing ride is a shared 2 person experience, all of our Zorbing packages are in 2 person increments.
These are bookable into any public hour where we are open and have enough availability for your group size.
Up to 6 People = £200
Up to 8 People = £275
Have an odd number of people?
If you can't fill the extra spaces, then the package with 1 extra space is still suitable for your group. eg. you have 7 people, so the 'Up to 8 people' Package is correct. The bonus is you still get all of the rides, so 2 people will get 3 rides each instead of 2!
Have 3 or 4 people?
Either choose the 'Up to 6 people' package, or select multiple vouchers through our Book a Ride section. Each voucher is valid for 2 people.
Looking for a fully private party?
Then check out our 1 Hour Private Hires below! A private package with just you and your group rolling – still the biggest and best way to celebrate in maximum Zorbing style!
1 Hour Private Hire – The Ultimate Group Zorbing Package
Our most popular private group experience package, now even more affordable!
GO Zorbing London now offers a reduced rate for our private, 1 Hour Private Hires!
Book a full hour of Zorbing for up to 10 people for only £350, allowing each participant to get at least 2 rides each, but often more as we can ride you as fast as you like (and as humanly possible!).
This complete and private Zorbing package gives your group complete exclusivity of our Zorbing run for a full hour of ex-hill-erating action.
Have fewer people?
Don't be put off; the fewer people you have, the more rides you will all get in your hour!
Have more than 10 people?
Or looking to organise a private midweek event on a date we aren't currently open? We can definitely help – please give us a call and our friendly team would be happy to talk through all options.
Paintball & Zorbing with GO – Your ultimate action and adrenaline day!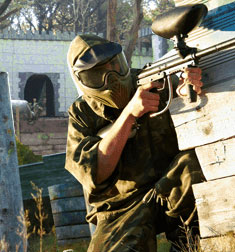 GO Zorbing London is located in the same scenic Surrey forest as GO Paintball London.
Run by the former UK's #1 Paintball player, with professionally designed game maps and the best hand picked equipment, GO Paintball London provides the most exciting and immersive Paintballing experience imaginable.
Through our 'VIP' Paintballing vouchers which every Zorbing customer receives with their booking, or through our bespoke mixed events, you can enjoy two of the most adrenaline packed experiences, from the best companies in the industries, all at the same venue!